Randy Bachman, Rob Szabo lend a hand on Steve Strongman's latest album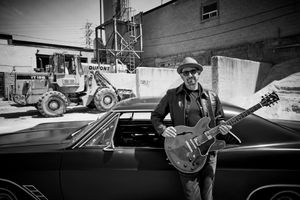 It's not always easy to break out of the blues, the musical kind anyways. Blues purists can be some of the worst snobs. You know the type … if it doesn't sound like Muddy Waters, then it ain't the blues.
The only problem with that attitude is that it can be a tad confining … even a little boring. Sometimes a blues lover has just gotta stretch.
That's just what Steve Strongman has done on his new album "No Time Like Now." The 10 tracks on the record, which will be launched at a release party March 3 at Mills Hardware, are still based in the blues.
But they also rock more … far more … than any of the Juno-winning blues man's previous solo albums.
"We came out swinging with this for sure," says Strongman, a longtime Hamilton resident, originally from Kitchener. "I wanted to make a real guitar-driven record. I wanted to explore blues as sort of a larger-based sound. People like to put boundaries on you, and I like to push those."

The opening title track starts out pleasant enough with a gentle acoustic guitar strum before bursting out into a monster bass-driven backbeat, flowing into a chorus of echoing handclaps and gang vocals.
Next up is "Bring the Hammer Down," a track powered by a ZZ Top-like shuffle and enough fuzz guitar to send a Billy Gibbons fan to heaven. Track three, Money in the Bank, is down-dirty and swampy. More gang vocals.
And then there's track four — a flash guitar duet with Randy Bachman on the Bachman-Turner Overdrive classic "You Ain't Seen Nothing Yet." It's a cover song, for sure, turned upside down and rearranged by Strongman with Bachman's support. No stutter on this version.
"I did want to change it up a little bit because it's such an iconic song," Strongman says. "We recorded it and then I emailed it to Randy. He loved it. He thought it was a fantastic version of it."
It didn't take much to convince Bachman to play on the record.
"He loved it so much he invited me to launch my version of his song with him at his show at the CNE this summer," Strongman says. "It was a great experience."
Strongman has known Bachman since opening for him almost 25 years ago at the Kee to Bala in Muskoka. He also played guitar with Randy's son Tal before leaving the younger Bachman to form the alt-rock band Plasticine with an old friend from Kitchener, Rob Szabo.
Although both embarked on solo careers, Strongman and Szabo remain close friends and collaborators. Szabo had produced Strongman's two previous albums, including the Juno-winning "A Natural Fact."
Strongman returned to him as producer for "No Time Like Now" and Szabo also gets cowriting credits on nine of the album's tracks. They recorded much of the album at Strongman's west Hamilton home, using Szabo's mobile recording studio.
"Instead of going into a large studio, we opted to stay home and not have to watch the clock," Strongman says. "That way we were able to spend more time with it and I think that really led to some amazing guitar tones. It was a very cool experience."
905-526-3331 | @RockatTheSpec
---
Socan - Words and Music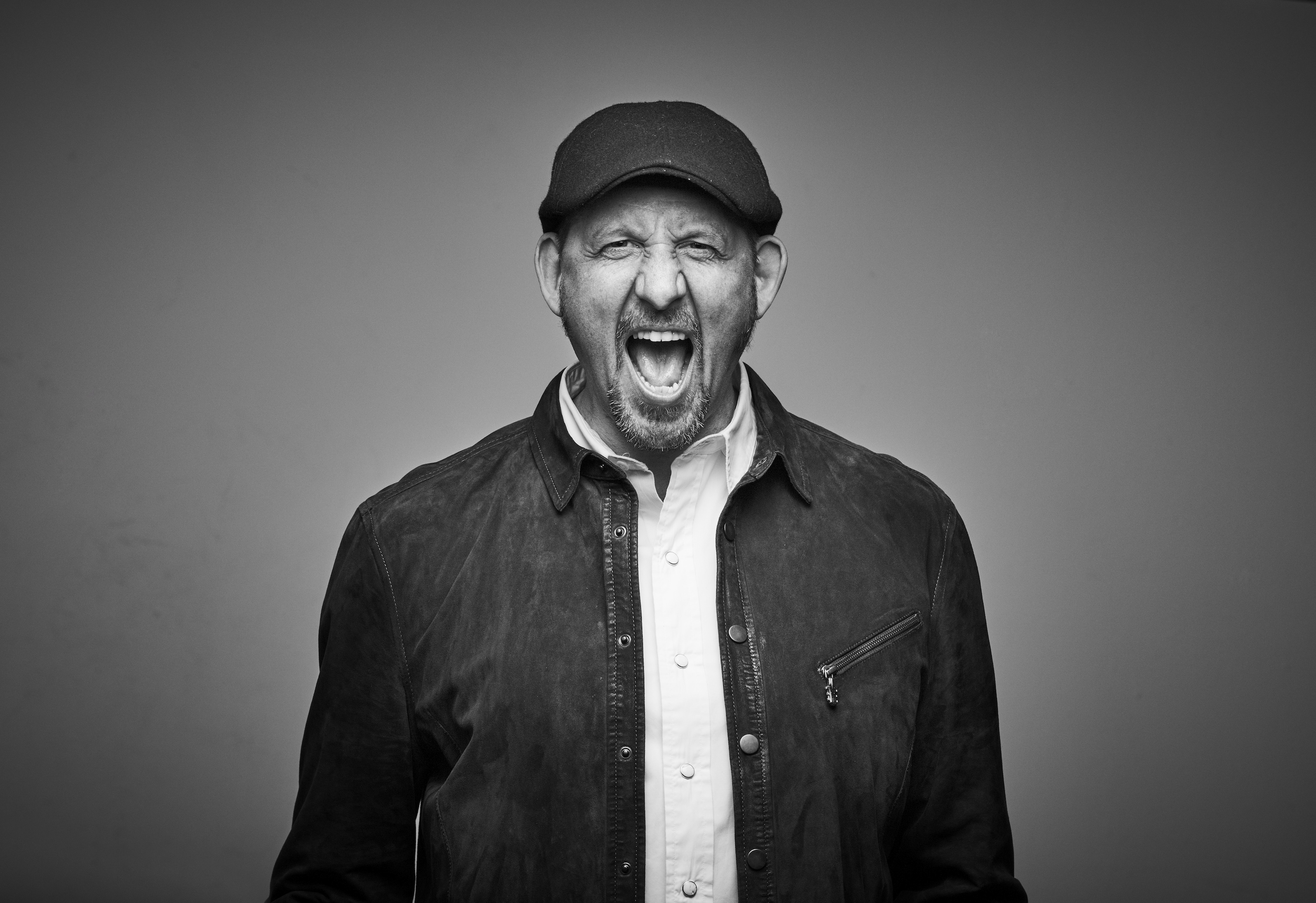 Story by: David McPherson | Feb 17, 2017
Blues (noun): Melancholic music of black American folk origin, typically in a 12-bar sequence. It developed in the rural southern U.S. toward the end of the 19thCentury, finding a wider audience in the 1940s as blacks migrated to the cities. This urban blues gave rise to rhythm & blues and rock 'n' roll.
Blues is an omnipresent genre, but it's rarely in the spotlight. While it's always acknowledged this "melancholic music" birthed rock 'n' roll, modern mainstream rock listeners tend to shun traditional blues. That's fine with Steve Strongman. As a purveyor and champion of a genre that boasts a legendary line of guitar-slingers – like Robert Johnson, Muddy Waters, and Otis Rush – the blues course through Strongman's veins and flow from his fingers every time he picks up his Gibson electric guitar. The singer-songwriter believes it's his role to help keep the genre alive, and to educate the masses of what blues really means in the 21stCentury.
"We have to continue to push the parameters of what people think blues means, because everything sounds like the blues," says Strongman, a 2013 JUNO Award winner in the Blues Recording of the Year category (for A Natural Fact). "Even heavy rock stuff is blues-based."
Strongman's earned three Maple Blues Awards, and has toured with the legendary likes of B.B. King, Johnny Winter, and Buddy Guy. While Colin James recently returned to his blues roots (Blue Highways), as did The Rolling Stones (Blue & Lonesome), Strongman has always stayed true to his roots – as with his next (and sixth) album, No Time Like Now, which drops March 10, 2017. The songwriter spoke with us in January 2017 at the Gibson Guitar Showroom in Toronto's Liberty Village the day the album's first single, "No Time Like Now," was released.
"I was a huge Led Zeppelin fan, like many people my age. Then I realized where they were getting everything."
All Strongman needed to feed his muse, inspire him, and seize the day, was a sense of urgency. He recorded the 10 songs of No Time Like Now with longtime friend, former bandmate and frequent producer Rob Szabo, mostly at Beulah Sound Studio in Hamilton, where the singer-songwriter hangs his hat these days.
"We wanted it to be a very exciting, guitar-driven record," he says. "It's still steeped in the blues – because anything I do is steeped in the blues – but there are a lot of other elements to this record that previously we hadn't really focused on."
While James and The Stones each pay homage to the genre's legends with 100-percent-covers albums, Strongman offers nine original songs steeped in the blues, but that also rock out, and boast layers of soul. The only cover is a swampy take on Bachman-Turner Overdrive's "You Ain't Seen Nothing Yet" – an intriguing choice for a blues album.
"Rob and I opened for Randy [Bachman] a long time ago, and later I ended up playing with Randy's son Tal," says Strongman. "We've always kept in touch. When I was rehearsing with Tal, one time I stayed at Randy's house in White Rock. He's always been a huge supporter of my music and often plays me on his CBC Radio show. When Rob and I decided we were going to do a cover on this album, Randy's songs came to mind. 'You Ain't Seen Nothing Yet' just leapt out at me. We didn't want to do that cover the way Randy did it because to me it's a fantastic, massive hit. I tried to put my own spin on it."
When Strongman sent an MP3 demo of the classic-rock anthem to Bachman, asking for his opinion (and his blessing), the Canadian Music Hall of Famer loved it, and even agreed to lend his guitar work to the finished track.
While musicians like Bachman, James, and The Stones discovered the blues early –  listening to, and learning licks from, the likes of Elmore James, Jimmy Reed, and Howlin' Wolf guitarist Hubert Sumlin – Strongman's attraction came via a more circuitous route.
"I arrived at the blues via classic-rock bands, because that was what I was into," he explains. "I was a huge Led Zeppelin fan, like many people my age. Then I realized where they were getting everything. Growing up around Kitchener-Waterloo, having [blues club] Pop the Gator [that hosted the likes of Bobby "Blue" Bland, Albert Collins and Mel Brown] right there, you also got to see these amazing, world-class blues artists come through town, and that really resonated with me.
"I always think of myself as a guitar player first," he adds. "Everything I do is steeped in the blues, but centered on guitar playing. I hear blues in everything, even in pop. Blues itself… people have an idea when they say the word. This record is just a continuation of what I've been working on."
When it comes to crafting songs, does Strongman experience chills, like some other writers, when he knows he's on to something good?
"That's exactly the way it works," he says. "I know when I hear something, and get a bit of a chill vibe, that it just feels right. You might spend eight hours one day and not get one word, and then the next day you get up and in 10 minutes you have two verses, and a chorus you love. You always try to strive for that 'Aha!' moment, where you say, 'That's it!'"
 
---
Hamilton Magazine - February 2017 - Read the full story here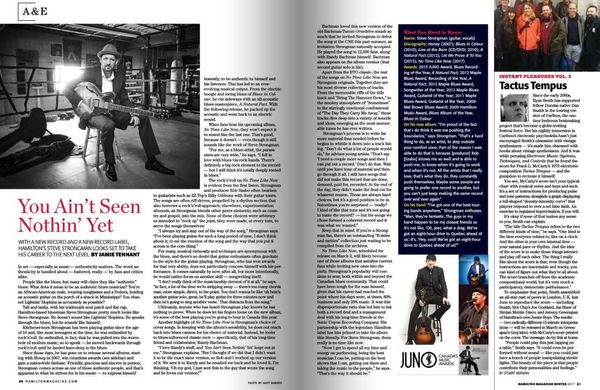 ---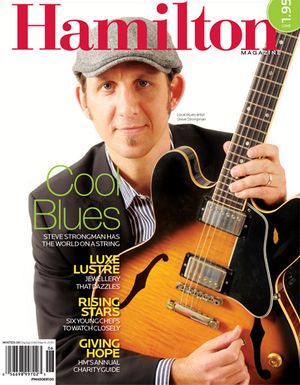 Interview in Hamilton Spectator - April 28, 2012
This husband and father knows all about Coming Home Tonight
Hamilton's Steve Strongman performs songs from his new CD at Molson Canadian Studio on Saturday, May 5.
Steve Strongman Hamilton's Steve Strongman performs songs from his new CD at Molson Canadian Studio on Saturday, May 5.
Success is a mixed blessing for a professional musician. Take Steve Strongman. The Hamilton blues guitarist has gone from playing local pubs to touring the world.
In Canada, Strongman has built a reputation as one of the best in the country. He's opened for the legendary Buddy Guy four times and toured across the country with New Orleans' great Sonny Landreth. Just two weeks ago, he performed at a special tribute for the late Jeff Healey at Toronto's Sound Academy with Randy Bachman and Jack de Keyzer.
He's been a familiar face on the Canadian festival circuit for several years, and last year toured France, Brazil and Mexico. Germany will likely be next, since he just signed a European record deal with German blues and jazz label Peppercake Records.
But Strongman can also be seen pushing a baby carriage on Dundurn or Locke streets near the home he shares with his wife, Meredith. Strongman, 39, is the proud father of two daughters.
"Ella is six. She's in Grade 1 at Earl Kitchener," Strongman beams, pulling out family photos over lunch at the West Town Grill. "Scarlett is three and she starts school in September."
When he's not on the road, he's very much a house dad while Meredith works as a science teacher at Sir John A. Macdonald Secondary School.
For Strongman, the blues is often about missing home.
"It can be really tough to do what I'm doing because you're trying to have a family life, be the best parent and husband you can be," he says. "But when you're away, you're gone, you're touring. There's no way I could do it if I didn't have the support that I have at home."
You'll hear that sentiment on Strongman's new album, A Natural Fact, which he will debut at a concert Saturday, May 5, in the Molson Canadian Studio at Hamilton Place.
As a matter of fact, it's at the core of the album's centrepiece track, a beautiful acoustic folk ballad called Coming Home Tonight. It's also there on the more traditional blues number, Rockin' Chair Blues.
"I wrote all the songs and I always write from personal experience," Strongman explains, "So Coming Home Tonight, for example, I wrote when I was on the road in Europe, missing my family, missing my friends. I have an amazing network of friends and family here. It's the only way I could ever do it, honestly."
A Natural Fact is Strongman's fourth album and marks a change from his previous efforts which are dominated by his fiery electric guitar. This time around, Strongman showcases his abilities on acoustic guitar, with a full band backing him.
"I've always loved acoustic music," Strongman says. "There's an intimacy that happens with acoustic instruments. I played guitar for five years before I ever picked up an electric. There's always been an acoustic influence on all of my records."
The album, produced by Strongman's longtime friend and collaborator Rob Szabo, was recorded in Hamilton, Toronto and at the Barn Window Studio in Caistor Centre, with Alex Fraser on bass, Dave King on drums, Jesse O'Brien on piano and a guest appearance by Suzie Vinnick on vocals.
____________________________________
Check out this review of the new album...thanks to John the Rock Doctor from 
Gonzo online.