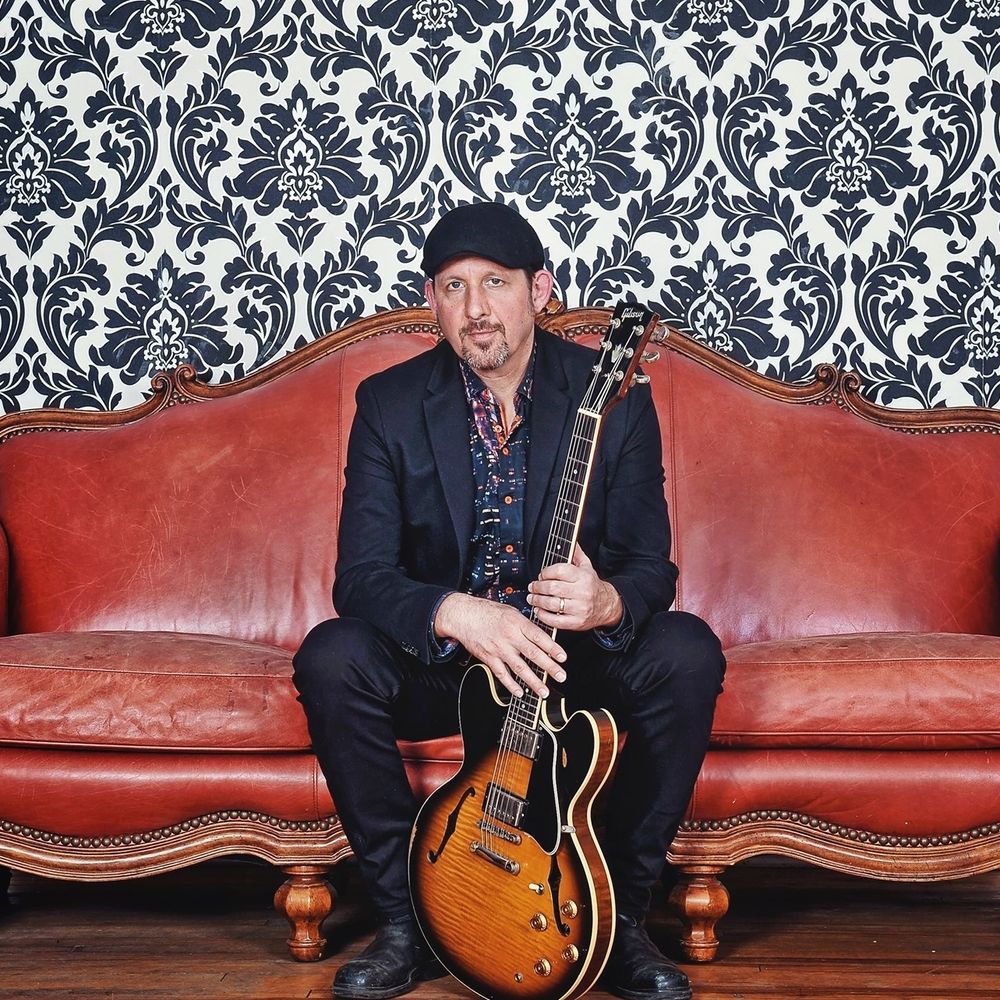 Midwest Records Review November 2, 2019
STEVE STRONGMAN/Tired of Talkin': A blues rocking white boy that seems to have non chalantly shredded his way to the top of the heap with smoking licks and powerful company throughout. Easy going without being easy listening, this is fist pumping, beer drinking night out music for party people that need a leader to let them cut loose. Fine stuff sure to keep him on top.
November 2, 2019
 

STEVE STRONGMAN/Tired of Talkin': A blues rocking white boy that seems to have non chalantly shredded his way to the top of the heap with smoking licks and powerful company throughout. Easy going without being easy listening, this is fist pumping, beer drinking night out music for party people that need a leader to let them cut loose. Fine stuff sure to keep him on top.
EXCLUSIVE

VERITA VAMPIRUS

CD REVIEWS   

April 2017 – by Mark S. Tucker
STRONGMAN – No Time Like Now (2017 / Sonic Unyon)
 
Well, if Steve Strongman's surname weren't indication enough, the very first track, the title cut, "No Time Like Now", starts off in Adam Warner's muscular gut-boogying drum work, letting the listener know he/she is in for righteously stormy weather, thunderclouds bulking, lightning dashing, rain soaking boulders all over the place, gale winds forcing vehicles off the thoroughfares, that sort of thing. Strongman's no faintheart and in fact rumbles and careens through every cut on this bicep-flexing release, a harkening back to when Chicago blues got amped up into rock raves in the U.S., Canada, and England (uh, Germany gave it the ol' college try but those guys've always been a good deal more progressively oriented in everything than is good for 'em!).
Fans of Blackfoot, Savoy Brown, Merryweather, Walter Trout, ZZ Top, Bachman-Turner Overdrive (the esteemed Randy Bachman appears on Strongman's version of BTO's "You Ain't Seen Nothin' Yet" here) and the heavy-siding bloozers have much to wallow in. In fact, Strongman and bassman Rob Szabo, who wrote all the CD's songs save for the BTO cut, are irrepressibly sanctified and can't help but rouse the primal spirit no matter when they lay pen to stave or fingers to fretboard. "Love Love Love" is a soul-gospel-folk-rock stomp shuffle, and its follower, "I'm a Man" (not the Spencer Davis classic nor the Bo Diddly lynchpin), is a cross between the Isley Brothers, Donny Hathaway-era falsetto soul, and a bit of Mother's Finest.
Strongman, who doesn't play enough solos to satisfy my ever-thirsting ear (the guy obviously prefers beefing up the song itself to gloryhoggin', but…but…but, Steve, we LOVE gloryhogs!) ramps up a great little Ernie Isley middle eight. "Old School" then has him playing over himself in very satisfying layers, subtly displaying acumen in several aspects, slyly. Regardless, his chord choices and attack are tight, his vocals vociferous and uncompromising, and I don't know who the hell's playing that harmonica wailing away on several cuts, no credits are given, but, man, that cat's EXACTLY the right guy for this band. Wouldn't have bothered me one little bit to have glommed more of him.
No Time Like Now

is quintessential road trip music for tooling across desert landscapes 'neath full moons, coyotes howling in the distance, and maybe a bit of Seagram's best well under belt, but, HEY!, I ain't advising no one to drink and drive, y'all!!! That flask 'neath the leather gut-cinch is only for retrieval when pulling to the side of the road in the middle of nowhere, draining it, blasting the CD, and settling in with the snakes for a good night's rough and tumble cactus cakewalk, sweet bliss and repose capping everything off. Don't try any Casteneda power walks, tho', that ayahuasca guy was fulla you-know-what, just bootscoot in the clearing 'til ya cain't no mo', then grab a sandwich, a bag of pork rinds, wolf 'em down, and smile as you drift off. The closing balladics of "Sometimes" and "The Day They Carry Me Away" will go a long way in aid of that.


Penguin Eggs - Record Review December 2014 - Let Me Prove It To You (Independent) 





Steve has little to prove at this point but for those who don't already know, he's one of this country's most talented—and most consistent—blues exports. Yet it would appear that, as fellow Hamiltonian Harrison Kennedy has done before him, Strongman has made a deal with the Devil. His latest album, his fifth release, was faced with the challenge of topping Natural Fact, an award-winning, all-original outing that set the bar for acoustic blues. He's done it again, this time in a full blues-band setting. Smart writing, lethal slide guitar, confident vocals and 11 more fully accomplished songs, Let Me Prove It To You is truly Strongman's second coming. At the same time, it's less a Steve Strongman record and more a band record, with Dave King/Adam Warner on drums, Alec Fraser/Mark McIntyre on bass, Jesse O'Brien on piano, Guy Bélanger guesting on harp, and the sweet backup vocals of Emma-Lee and Catherine Wallace. A wickedly strong follow-up to his last wickedly strong follow-up, designed to remove your socks from your feet.



Penguin Eggs - Record Review December 2014




Earshot Online - Review By Shelley Gummeson - August 2014 


Earshot Online - Review 

Steve Strongman
Let Me Prove It To You
Sonic Unyon 

(

 http://www.sonicunyon.com/ @SonicUnyon 

)



I'm pretty sure that bluesman Steve Strongman didn't make a deal with the devil at some Hamilton crossroads, but he sure plays his guitar like he did.

On his latest release Let Me Prove It To You Strongman straps on his Gibson and shows us the electric blues is where he lives.  He has taken the blues and dropped it into the context of what could be anybody's everyday experiences.  That's Steve Strongman's gift.  His blues are blue-collar blues - work hard, play hard, make do, and live life.

Sandwiched between the infidelity sing along opener, "There's Something Goin' on", and the sweaty dance floor closer, "Can You Feel It?", are nine tracks that echo human nature.

"What I Believe" is a gritty and greasy sounding tune that holds no sway for ambiguity.  Steve lays flat out what he believes and he believes in playing the blues.

Storytelling is a Strongman forte and it's front and centre with "We're Goin' Out Tonight".  The song is completely relatable and the format is reminiscent of George Thorogood's "One Bourbon, One Scotch, One Beer".

Strongman is backed by an energetic and tight group of musicians.  He is able to cut loose with special guest Guy Belanger, Quebec's virtuoso harmonica player, on "Lookin' For Trouble".  The song grabs you right from the fade in and keeps up the pace the whole way through.

Let Me Prove It Too You is produced by Juno award winning producer Rob Szabo who produced Strongman's breakout acoustic album A Natural Fact.  A musician himself, Szabo appears to understand where Steve Strongman is coming from, where he is going, and how to channel the talents of the Hamilton bluesman.  The results are a wholly believable recording.  There are no slick tricks to be found here.

Steve Strongman invites you into the blues with exceptional musicianship, superb song crafting, and a very personable delivery.  So much so that you'll want to sing, drink and dance through the whole album.

By Shelley Gummeson
Aug 12, 2014


 

Maple Blues Magazine Review - John Valenteyn May 6, 2014
Steve Strongman Let Me Prove It To You Self
 
Maple Blues Magazine Review 

A Natural Fact was most unusual for Hamilton's Steve Strongman and not just for winning the JUNO award. It was an acoustic album from an artist known for his electric shows. To say that news of his next disc was eagerly anticipated is a major understatement. Well, here's the news: it will be released on May 13, it's electric (mostly) and it's great.
  
The opener is a stunning rocker – "There's Something Goin' On" is a 'there's mule kickin' in my stall' song with a slide hook to die for and a great chorus (with Emma-Lee). "What I Believe" is a slower & heavier, with some neat little shifts and a section with harp over an acoustic slide. "Get Used To It" is mostly acoustic, again with slide and again with a good tune and Jesse O'Brien on piano. The song says you're not going to get everything you want. It's not the only one here about getting older, "We're Going Out Tonight" has an old friend calling him up and wanting to go out like the old days but our narrator has a wife and kids and things to do. Again with an inventive arrangement and tune.
  
While Strongman plays some pretty mean harp himself, he's brought along Guy Bélanger from Montreal for "Lookin' For Trouble". Somewhat unusually, the song fades in as Strongman sings over his slide, the two have a dueling solo feature. The acoustic "Older" confronts the issue head on and the chorus, rather tunefully, says 'he's getting older but not old'- uptempo and optimistic.
  
Strongman is a one of our finest entertainers and one of our strongest songwriters. This album keeps that all-important momentum going. A strong contender for next year's JUNO and he's debuting it in Hamilton on May 9 at Hamilton Place, the Molson Canadian Studio Theatre. Our turn comes at Hugh's Room a week later, on May 15th. 
Thanks to John Valenteyn & The Toronto Blues Society 


Hamilton Spectator Feature "Nothing Left To Prove" May 6, 2014  The Hamilton Spectator 
By Graham Rockingham 
May 6, 2014 

You could forgive Steve Strongman for going into the studio and repeating the formula that won him a Juno on his 2012 album, A Natural Fact.But it wouldn't have felt right. A Natural Fact was a big departure for the Hamilton blues artist. Strongman recorded that album using an acoustic guitar, despite the fact that he built up a loyal fan base for his fiery performances on electric guitar.
"A Natural Fact was the most successful album I've ever had," Strongman says in an interview about his upcoming album Let Me Prove It To You. "It would have been easy to go back to the well and do the same thing again, but I didn't put any parameters on this record at all. It was just what I felt like doing, and I felt like doing a band record again, coming back to what I do every single night when I'm onstage with a band."
The 11 original tracks on Let Me prove It To You bleed high-energy blues rock, referencing the late great Muddy Waters on songs like What I Believe, John Lee Hooker on We're Going Out Tonight and Stevie Ray Vaughan on the title track. This is shot-belting party music and probably the strongest of Strongman's five albums.
"I think writing really strong blues-based songs is one of the hardest things you can do," Strongman says. "You're writing within parameters. As soon as you change the music too much, people say 'that's not blues.'"
Strongman, 40, faces the challenge by combining traditional electric blues styles with contemporary lyrics that have more to do with raising a family in Hamilton than with 1950s Chicago or Memphis.
"I can't write about what it was like for the traditional blues artists," explains Strongman. "I can't write it because that was their lives. They grew up in the south. I'm writing about what it's like for me. As a huge blues fan, it's a hard thing to do, to still be honest and stick within the parameters."
Strongman, who moved to Hamilton from his native Kitchener 20 years ago, lives in the Locke Street neighbourhood with his wife, Meredith, and two young daughters, Ella and Scarlett. Some of the songs on the new CD reflect the new realities of life after 40, especially songs like Older ("I might be getting older, but I ain't getting old") and We're Goin' Out Tonight (an old friend stops by late one night and demands they go out on a wild tear).
"That's the reality," says Strongman. "People have kids, they've got to get up and go to work."
The album, recorded at drummer Dave King's Barn studio in Caistor Centre and at The Hive in Toronto, features familiar names to Strongman fans — Mark McIntyre and Alec Fraser on bass, Jesse O'Brien on keyboards, as well as guest appearances by Quebec harmonica player Guy Belanger and backing vocalist Emma-Lee.
Strongman's Juno win last year in Regina — he beat Colin James for blues album of the year in James' hometown — has given the Hamilton guitar slinger a national audience after playing for years in local clubs.
Last summer, he played 23 major festivals from British Columbia to Prince Edward Island. He has also played stints opening for guitar legends such as Johnny Winter, B.B. King and Buddy Guy.
He plans on following a similar circuit this summer after CD release parties in Hamilton (Friday in the Molson Canadian Studio at Hamilton Place), Toronto (May 15 at Hugh's Room), London (May 23 at London Music Hall, with Duke Robillard) and Quebec City (May 29 at Petit Champlain). In the fall, Strongman is planning a European tour focused on France and Switzerland.
grockingham@thespec.com
905-526-3331 | @RockatTheSpec
 

New Canadian Music - May 13, 2014 
New Canadian Music - New Releases
Long a favourite on the Ontario blues circuit, guitar-slinger Steve Strongman grabbed extra national prominence with the 2013 JUNO Award for his previous release, A Natural Fact. That was an acoustic record, but he returns to his high-energy electric sound on his fifth album, Let Me Prove It To You. Producer Rob Szabo co-wrote most of the cuts, and the infectious upbeat vibe of the record will make it a summer patio party fave. A-list accompanists include Emma-Lee, Alec Fraser and Jesse O'Brien. Strongman launched the album at Hamilton Place and Toronto's Hugh's Room recently, and he has upcoming dates in London (with Duke Robillard), May 23, Midland (May 24) and Quebec City (May 29).
- Kerry Doole
Kingston Music Reviews - 

May 2014 
Kingston Music ReviewsSteve Strongman
Let Me Prove It To You
Steve Strongman – Let Me Prove It To You is one of a few blues albums that I am unable to turn away from. With this new release Steve goes back to his old ways by releasing a fired up electric blues album. By still implying all of the classic blues effects including, harmonica, keys ,backing vocals,  and enough slide to restore any type of negative mood that you may be in before you listen to this album.
With a fast thundering snare drum roll Let Me Prove It To You starts off with "There's Something Goin' On" which basically lets you get a quick taste of what Steve Strongman has to offer. With saucy and witty lyrics which could be lent off of personal experiences or based on every touring musicians home life. But more importantly you have Steve letting your ears have it right away with his intense slide guitar skills. For me it's just the way he implements the slide in the song in all the right places. While not over peppering and drowning the song with the slide, for me he places and plays the slide a perfect manned and in the perfect places. Still after listening to this album for the past two weeks straight everyday at work I still get a laugh at the lyrics in the song.
Following the fast past song "There's Something Goin' On" Steve gets down with a deep blues number called "What I Believe".  "What I Believe" is a deeper bassier song but with all the slide you could ask for to help smooth the song over. For me in a few parts the Harmonica comes in and steals the show in the song.
Now if you ever needed a song to learn the main lesson in life from  "Get Used To It" has it wrapped it up in three minutes and thirty five seconds. The first time I listened through this album I had to replay this song at least three times before I let the album progress any further. The duelling bar room sounding keys and blues guitar just erupts this song even higher. If you had to pick a reason why Steve Strongman is a Juno Award winner This song stamps it right out.
Steve Strongman Makes Acoustic Guitar Sing
Saturday, 28 April 2012 15:20 Richard Amery
Steve Strongman knows how to make an acoustic guitar rock on his new CD "Natural Fact." He won the 2011 Maple Blues award for best blues guitarist of the year, and one listen to "Natural Fact," it is easy to hear why.
You can hear pretty nimble fingerpicking right from the first track on "Haven't Seen It Yet." And it only gets better from there. While he sometimes has a band behind him, which make him sound a lot like Juno nominees Monkey Junk, he shines when left to his own devices and acoustic like on "You Do It To Yourself."
He breaks out the harp for some hot playing on " the jazz tinged " Full of You." and again to end the CD with "Just One Thing."
He has a gorgeous liquid voice throughout and plays very impressive , usually fingerpicked guitar throughout the disc.
There is lots of beautiful slide guitar playing and superb harp blowing.
Respected singer/ songwriter Rob Szabo produced "Natural Fact," and even adds extra bass on "Coming Home Tonight."
One of the many highlights of this CD is the upbeat "Leaving," with Juno nominee Suzie Vinnick,
which features a little boogie woogie piano to get thing started and a solid beat to get the feet moving. The two complement each other very well.
He slows down slightly on "Coming Home Tonight," but then tears into "I Got Trouble,
which sounds like a long lost blues classic, but it is all his. All of the songs were either written by or co-written by Strongman.
"Full of You," starts to bring the CD to close with a lot of hot picking. And he ends on a slower, almost all a cappella note, though with a lot of tasteful harp playing on "Just One Thing."
With " Natural Fact," Steve Strongman is well on my way to becoming my new favourite Canadian bluesman and definitely a hidden treasure everyone should discover, like many people including Buddy Guy, Joe Cocker and Randy Bachman already have.
— By Richard Amery, L.A. Beat EditorCheck out this review of the new album...thanks to John the Rock Doctor from Gonzo online. 
A Natural Fact Steve Strongman (Independent) 5/5
A Natural Fact is the sweetest, most enjoyable disc of acoustic blues I've heard in a very long time- maybe even ever. A joyous blues album- is such a thing even possible? Yes it is- and here is all the proof you need.
Strongman was the Maples Blues Award winner last year for "Guitar Player Of The year", and after hearing the new album I have no trouble believing it. "I've always had a love for acoustic based music, especially the blues" he says, and it shows here in the joy of his performance. His playing is driven yet supple, some tasty slide work, and you never get the feeling that he's fighting the instrument. Part of the appeal of this record is that it feels so natural (hence the title I'm sure) and- I hate to use the word, but 'effortless'.
There are several solo acoustic numbers here, just Steve with his guitar and voice. Elsewhere he's joined by Dave King and Adam Warner on drums, Alec Fraser and Rob Szabo (producer) on bass, and Jesse O'Brien on piano. The bio says Strongman has shared stages with Buddy Guy, Jimmie Vaughan, Randy Bachman, Roy Clark, Otis Clay, Jeff Healey, Sonny Landreth and Joe Cocker, just to name a few- wish I'd been to any one of those shows!
I'd recently thought of giving up writing reviews, but as long as treasures like A Natural Fact cross my desk for me to pass along, I'll keep at it. I'm sure I'm not the only one already considering this album for "Best Blues of 2012".
TOP TRACKS: I Forgot, Can't Go Back, I Got Trouble